For years, we've been asked the same question – "Do you make a tandem kayak?" We'd redirect the question and give our pitch on the beauty and freedom that comes with paddling solo. After all, our single-seater models, the Beach LT, Bay ST, and Coast XT, have been designed and meticulously refined over the last six years to deliver the most liberating kayaking experience a paddler could dream up.
But over the last couple of years, our own families started to grow. Our parents, partners, kids, and friends wanted to come along when we went kayaking.  This shifted our perspective and we heard the call of the community with fresh ears. "When are you making a two-seater?" Well, the wait is over – the answer is now.
MEET THE HAVEN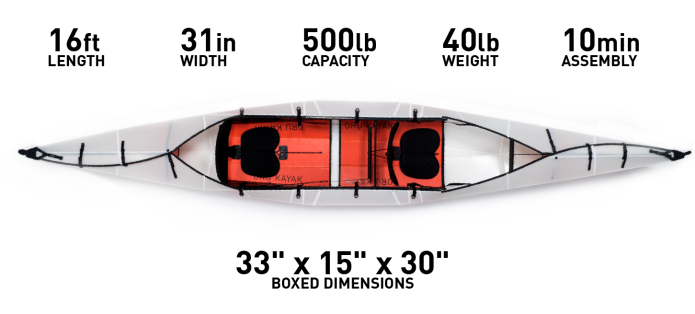 Our designers combined the ancient art of origami with everything they've learned from the past six years of designing foldable kayaks. The result is a tandem kayak that's performance is as impeccable as its design and it's portability unmatched.  We're also adding "versatility" to our toolbelt – the Haven easily converts to a single-seater kayak with the switch of a few buckles, for those times when you just want to fly solo for a bit. And the integrated rail system lets you add a ton of accessories for fishing, photography, picnics, or whatever else floats your boat.
LINK (via: Indiegogo)